Today, investors could find success in buying stocks in the mining industry, given not only recent market behavior but the fact that we will never have a problem with a demand for energy— it has been and will remain a potent force on our stock exchange, some of them very profitable. For this list, I looked through a lot of individual mining stocks. Gold excites me too, for instance, and I'll probably be taking a look at gold very soon. I found some favorites in the coal mining industry, so I thought I'd embrace coal in particular. With further research, I was a little surprised to learn there are still great opportunities in coal. Having been a crucial energy resource and vital to the economy throughout our country's history, the U.S. still relies on coal as an energy source today, and more so than one would think.
Coal is, in ways, the most important energy source for creating and powering electricity, utilizing iron and steel, and cement on a global scale, making it a focal point in matters concerning not only climate change but energy in general. Additionally, it produces the most carbon dioxide emissions of any major energy source. While are climate and energy goals are firmly in place, numerous countries have increased their reliance on coal as a result of the continuing energy crisis. Why? Well, it's reliable. It stands to reason, then, that its stock would be performing well, and that it would be considered naturally stable. That just happens to be the case in this instance.
That said, join me while I break down the three mining stocks I like best, accounting for overall performance. The analysts agree, and are telling us to buy these timely tickers:
---
---
CONSOL Energy Inc (CEIX)
Founded in 1894 and presently headquartered in Canonsburg, PA, CONSOL Energy Inc. (CEIX) is a global miner of bituminous coal, and is responsible for the extraction, preparation, and marketing of said coal to manufacturers and refineries. CEIX has a market cap of $2.04 billion, while its stock is down -6.52% YTD. CEIX has trailing-twelve month revenue of $2.3 billion at an EPS of $13.05, from which it profited $467 million, with a 25.34% margin. CEIX has a P/E of 4.57x, a forward P/E of 2.76x, showing YOY revenue and EPS growth of +80.10% and +64.50%, respectively. CEIX has a dividend yield of 7.38%, with a quarterly payout of $1.10 ($4.40/yr) per share. Analysts give CEIX a median price target of $80, with a high of $84 and a low of $75. With even its low point representing upside, the median indicates a +31.67% jump from its current price. Analysts are uncontested in their buy rating for CEIX.
CEIX (Year-to-Date)
---
---
Teck Resources Ltd (TECK)
Teck Resources Ltd. (TECK) explores Asia, North America, and Europe in search of natural resources, which it also produces. TECK's output consists of steelmaking coal, along with copper, lead, silver, chemicals, fertilizers, and more. TECK was established in Vancouver in 1913. TECK looks to be one of the safer, stabler options among its peers, with a P/E of 7.75x, a P/S (price to sales) ratio of 1.83x, trailing twelve month revenue of $17.3 billion, profiting $4.09 billion with a net margin of 23.50%. TECK boasts operating cash flow of $8 billion, and levered free cash flow of $845 million. TECK has a dividend yield of 0.85% yield, with a quarterly payout of 9 cents ($0.36/yr) per share. Analysts have tagged TECK with a median price target of $49.51, with a high of $55.38 and a low of $42. This represents upside potential of 30% over TECK's most recent price, and analysts are in agreement regarding its buy rating.
TECK (Year-to-Date)
Ramaco Resources Inc (METC)
Ramaco Resources, Inc. (METC) is in the business of selling, developing, and operating metallurgical coal, servicing the U.S. primarily. METC was founded in 2015 and is headquartered in Lexington, KY. METC's stock has performed pretty well when taking into account that it's down YTD, at the very bottom of its 52-week range. METC has a market cap of roughly $378 million, a beta score of 1.11, a P/E ratio of 3.25x, and a forward P/E of 2.56x. With a return on equity margin of 44.61%, METC reports about $565 million in TTM revenue—almost $200 million more than its valuation—at $2.59 per share, from which it profited $116 million with a net profit margin of 20.51%. METC has a dividend yield of 5.88%, with a quarterly payout of 12 cents ($0.48/yr) per share. METC shows forecasted 5-year EPS growth of +35.23%, and has a median price target of $12, with a high of $13 and a low of $10. This represents a potential price upside of anywhere from 39% to 51% for METC, and its robust buy rating has earned our attention.
METC (Year-to-Date)
There is a secret currency that's beginning to spread across America.
And you only have a limited time to claim one of these "Gold Dollars" for yourself.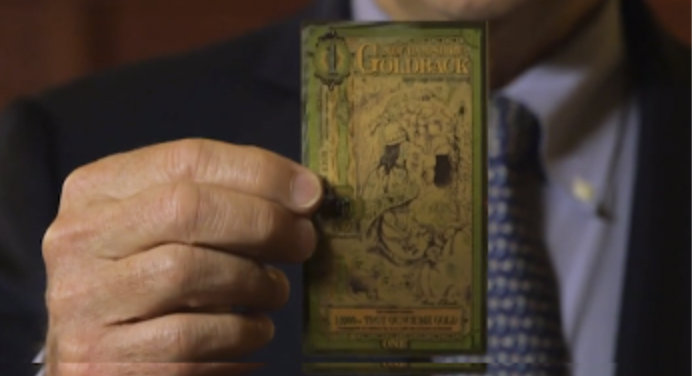 And since it is made out of REAL gold…
You can understand why I have a limited quantity to give out today.
You just have to watch this short 2 minute video I recorded for you and respond by immediately.
If you don't respond, you'll forfeit this offer and these "Gold Dollars" may be gone for good.
---
NEXT: