Investments in the form of royalties are a kind of revenue- or income-based investment, just as dividend stocks are, but with some differences. It's very much like getting money ahead of your paycheck. Royalties paid out as a proportion of profits are how investors recoup their initial investment. Royalty trusts make it a priority to consistently disburse to investors the proceeds from the sale of any underlying assets. If 90% or more of a trust's revenue is handed out as dividends, the trust itself benefits by getting an exemption on corporate income tax, an incentive that comes to fruition. 
In 2020, the decrease in oil and gas prices caused by the pandemic wound up putting a severe strain on oil and gas royalty trusts. Almost everyone drastically cut their payouts; some even stopped paying out entirely for a while. These trusts, however, started to improve when the energy market rebounded from the pandemic's financial woes and setbacks. The invasion of Ukraine by Russia and the ensuing sanctions of Western nations against Russia produced a sharp spike in oil and gas prices in 2022, which worked out very well for them. Since many of these trusts reclaimed success, they have paid out substantially greater distributions to shareholders than the S&P 500 index's dividend yield of 1.6%.
I narrowed our royalty trust options down to three stocks that I'm confident in, and really, the numbers will speak for themselves. Surprisingly, they have massive dividend payout ratios atop huge yields, excellent P/E ratios, and whopping net profit margins. Analysts see these and say: Buy and/or hold. These tickers make for wise portfolio plays: 
---
---
BP Prudhoe Bay Royalty Trust (BPT)
BP Prudhoe Bay Royalty Trust (BPT) operates as a United States grantor trust. In Alaska's North Slope, BPT owns overriding royalty rights in Prudhoe Bay, which is 12 miles by 27 miles and has over 150,000 acres ripe for production. Headquartered in Houston, TX, BPT was founded in 1989.
Considered undervalued and down by 37.41% YTD, BPT has a market cap of $156.5 million and comes with a safe 0.35 beta score, keeping it mostly free from volatility. BPT reports TTM (trailing twelve-month) revenue of $82.3 million at $3.78 per share, from which it's profited $80.8 million on the back of a stunning 98.23% net margin. BPT also boasts a P/E ratio of 1.93x, an ROE (return on equity) of 1,415.98%, and a 10-day average volume of about half a million shares. BPT shows YOY (year-over-year) revenue growth of +773.77%, EPS growth of +3,926.44%, and net income growth of +164.26%. BPT has a dividend yield of 32.91%, with a quarterly payout of 30 cents per quarter and an overall total payout of $2.41 for the past year— and it comes with a 99% payout ratio. Analysts have assigned BPT a median price target of $12.00, suggesting a potential 65% jump over current pricing. The analysts have also assigned BPT a buy-and-hold rating.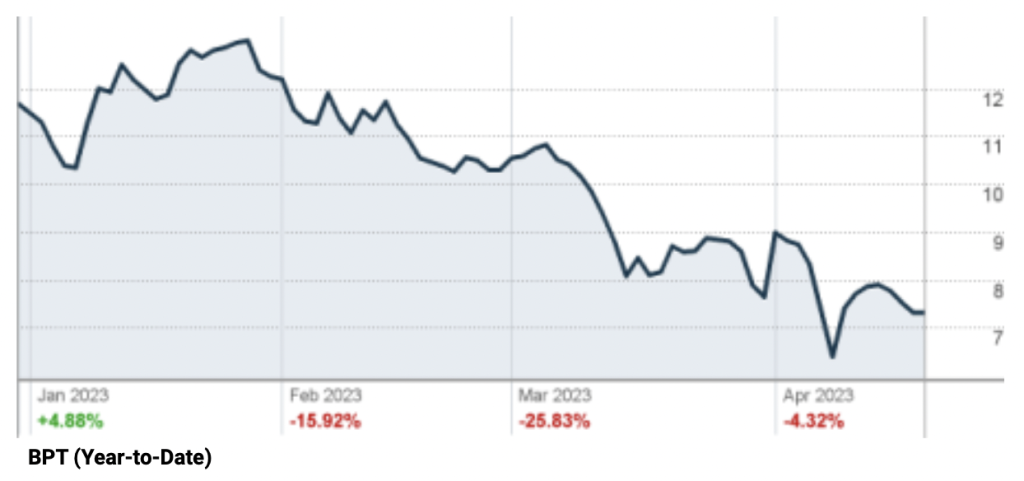 Hugoton Royalty Trust (HGTXU)
Hugoton Royalty Trust (HGTXU) is run as a U.S. express trust. At the time of writing, HGTXU holds roughly 80% of the net profits from interest properties in Oklahoma, Kansas, and Wyoming that produce natural gas. HGTXU was founded in 1998, and its headquarters are in Dallas, TX. HGTXU is down 11.46% YTD, with what you could call a modest capitalization of $82 million, yet a very nice 0.14 beta figure and a P/E ratio of 4.9x. HGTXU shows TTM revenue of $20 million at 41 cents per share, from which it made a profit of $18.6 million with a net profit margin of 84.79%. HGTXU shows year-over-year revenue growth of +2990% and presently has a 10-day average trading volume of 295 thousand shares. HGTXU has a dividend yield of 40.08%, with a quarterly payout of 17 cents ($0.48/yr) per share and a payout ratio of a flat 100%. Analysts who provide yearly price projections give HGTXU a median price target of $14, which, on its own, presents a potential 723.53% price leap from its recent price. Buy and hold. 
---
---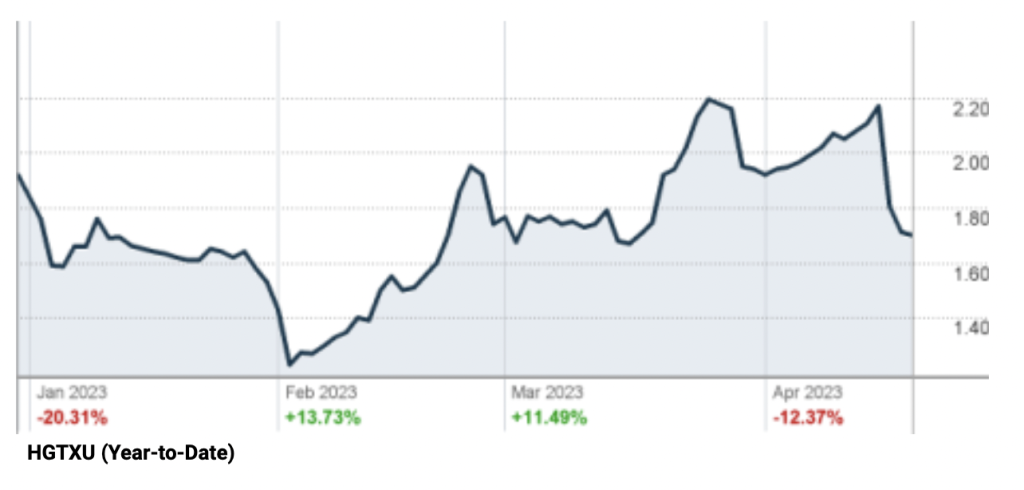 MV Oil Trust (MVO)
MV Oil Trust (MVO) buys and holds long-term net profits interests in oil and natural gas properties. MVO owns around 860 oil and gas wells produced in the Mid-Continent area in Colorado and Kansas. MVO was founded in 2006 and has its headquarters in Houston, TX. MVO's stock, on the surface, is just as its peers in the sense that the stock is down YTD (by 26.15%), it has a modest market cap of $137 million and a relatively safe beta score of 0.85. MVO reports TTM revenue of $27.2 million at $2.22 per share, from which it accrued a profit of $25.5 million on the back of a significant 93.84% net margin. MVO also has a P/E ratio of 5.4x, an ROE (return on equity) at 345.16%, year-over-year growth of just over 125% for revenue and EPS, and net income growth of 8767%. MVO's 10-day average trading volume is around 107 thousand shares. MVO has a dividend yield of 17.86%, with a quarterly payout of 53 cents ($2.12/yr) per share and, like its peers, an ever-so-generous payout ratio of 100%. Analysts that offer 12-month stock price estimates have assigned MVO a median price target of $43, representing a 256.55% pricing upside and, unsurprisingly, positive expert sentiment. Considering MVO? Buy and hold. 
---
---
Take a look at this:
What I'm holding in my hand is a completely new form of money…
As we speak, it's being used as an alternative currency across the U.S. minting in places like Utah, New Hampshire and Nevada…
And since it's made out of a thinly printed sheet of REAL gold…
It may be the single best way to protect your wealth from a sinister plot by president Biden to completely DESTROY your money.
Because rest assured…
Biden has already set the stage for a government-controlled digital dollar – which I believe is a DIRECT threat to your wealth and financial security.
That's why I'm sounding the alarm about this important new form of money called a "Goldback"…
And why I want to get your hands on it right away.
There's just one catch.
Since I have a limited number of these…
I need you to respond to this message immediately.
If you don't, you may miss out on this opportunity forever.
I've recorded a short 2 minute message that explains everything here.
Including what this new money is, why it's so important that you have some, and how to claim yours right away.
---
NEXT: