I've been talking a lot about mining recently. Well, here's why: It's an easy decision to put your money in a space that allows you to take a step back, give the portfolio a broader look, and feel content with your choices. I like businesses that mine for precious metals because they're tangible assets, copies of which don't fit well through a printing machine—I'm lookin' at you, Treasury Dept. Each bullion (a standard measurement used in precious metals) is worth a price subject to change. Still, it will naturally show more stability than other assets because it has actual physical collateral backing it as opposed to, let's say, a particular short-lived digital currency (a ticker starting with F and ending with X).
To end my time committed to this lucrative precious metals trend, I thought I'd explore copper, which is pretty neat, but for now? I have to go with silver. There's no reason not to get a copper list going soon enough; worry not. Now, here are a few reasons why silver is essential: It is a versatile metal, making it useful in several fields and playing a crucial role in producing electronic gadgets like phones, computers, and cars. Silver's importance in the emerging renewable energy sector may be even more compelling for investors, though; this is where I and many others see a bright future. Silver's conductivity also makes it a vital part of solar cells and other photovoltaic devices. And it just so happens that rapid expansion is being seen in solar energy production, which only indicates a more robust, demand-filled future for silver, so long as the market for solar energy continues to grow the way it has.
Quite the coincidence, this silver article will thereby make for a great transition to my next stock list, which I plan to dedicate to solar energy. This is also working out just fine for our purposes. Silver is a sub-sector I've visited before, but with much of today's "smart money" going to these mining firms, it wouldn't be unwise to at least keep a close eye on what these silver stocks are up to exactly.
While doing my research, I came upon three mining companies — which I've often noticed hail from Canada — that take a special interest in silver as the lucrative precious metal it is. Analysts agree, too, that these are very timely tickers; buy (and hold) these now: 
---
---
Silvercorp Metals Inc (SVM)
Silvercorp Metals Inc (SVM) acquires, explores, develops, and mines mineral assets in China and Mexico. The company primarily focuses on acquiring silver, gold, zinc, and lead. SVM took over for SKN Resources Ltd. in May 2005. SVM was founded in Vancouver, Canada, and still calls home today. Stock-wise, SVM could certainly be doing worse. With its stock up over 30% YTD, SVM will not show too much volatility with its solid 0.71 beta score and a P/E (price to earnings) ratio of 17.18x. SVM has a market capitalization of $683 million and TTM (trailing twelve-month) revenue of $215 million, from which it profited $24 million. SVM's most recent earnings report saw the mining business beat Wall Street's analyst forecasts on EPS and revenue by margins of 3.70% and 4.55%, respectively. The quarter prior? 9.08% and 3.89%. SVM has a dividend yield of 0.63%, with a… very modest quarterly payout of 1 cent ($0.04/yr) per share– let's call it cap-appropriate. Analysts who offer yearly 12-month forecasts have given SVM a median price target of $4.87, with a high of $8 and a low of $4.09. The eight-dollar high-point of the range would mean a +106.75% price leap, and analysts are in concert: buy SVM now.
SVM (Year-to-Date)
Avino Silver & Gold Mines Ltd (ASM)
As I'd hope it's not a big shock to you, mining and exploration are the core business functions for Avino Silver & Gold Mines Ltd (ASM). Known for its operations in the Durango area of northern Mexico, where the silver is rich, it too is headquartered in Vancouver, Canada. ASM was founded on May 15th, 1968. ASM has had a good year thus far, with its stock up nearly 40% YTD, a market cap of $112 million, and TTM revenue of $44 million, from which the firm made a profit, albeit a humble one, of $3.1 million, from a just-as-humble 7.09% net margin. ASM has a forward P/E ratio of 13.57x, YOY revenue and EPS growth of 57.21% and 133%, respectively, and $4 million in levered free cash flow. With a present 10-day average volume of roughly $890 thousand shares, ASM is doing rather well when you stop to consider the pricing in this instance. Analysts who offer median price estimates have assigned ASM an average price target of $1.75, with a high of $2.00 and a low of $1.25. The median represents an upside of 85.7%, which is plenty to convince one to hop aboard. If it hits two bucks a share? That's a +113% upside from current pricing, and analysts say we'd be wise to buy ASM now and hold.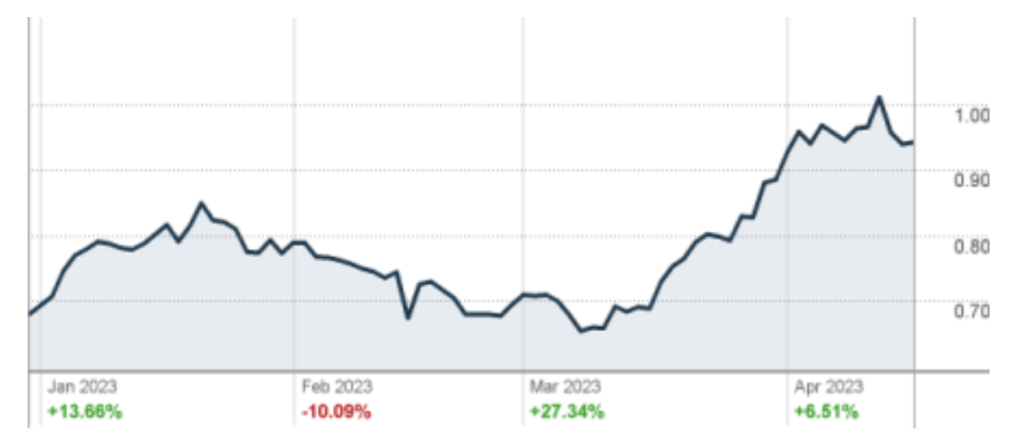 ASM (Year-to-Date)
MAG Silver Corp (MAG)
MAG Silver Corp (MAG) happily asserts that it is currently creating the most extensive grouping of primary silver holdings, and of the highest possible quality, in the world. Regarding its assets, MAG's crown jewel is the Juanicipio Property in Mexico. MAG shares have fallen YTD by almost 14%. With an ETA (equity to asset) ratio of 0.99x that sets MAG ahead of its rivals by a margin close to 97%, its solid balance sheet deserves to be specified. MAG has a flat-even beta of 1.00 and a market cap of about $1.4 billion. With close to $18 million in TTM net income and a forward or NTM (next twelve-month) P/E ratio of 22x, MAG shows year-over-year EPS growth of +183.25% and forecasted annual EPS growth of +369.84% this time next year. MAG has a 10-day average trading volume of roughly $767 thousand shares. Analysts who provide yearly price projections have assigned MAG a median price target of $18.29, with a high of $24 and a low of $15.40; this implies a potential pricing upside of as much as +78.4%, with even its median offering a 36% price jump. Analysts concede that we buy and hold MAG.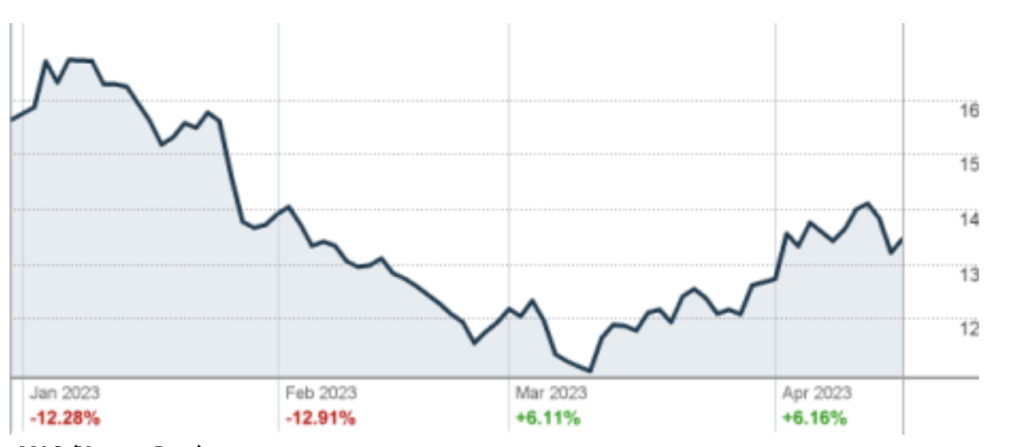 MAG (Year-to-Date)
– Adam @ Wall St. Watchdogs
Take a look at this:
What I'm holding in my hand is a completely new form of money…
As we speak, it's being used as an alternative currency across the U.S. minting in places like Utah, New Hampshire and Nevada…
And since it's made out of a thinly printed sheet of REAL gold…
It may be the single best way to protect your wealth from a sinister plot by president Biden to completely DESTROY your money.
Because rest assured…
Biden has already set the stage for a government-controlled digital dollar – which I believe is a DIRECT threat to your wealth and financial security.
That's why I'm sounding the alarm about this important new form of money called a "Goldback"…
And why I want to get your hands on it right away.
There's just one catch.
Since I have a limited number of these…
I need you to respond to this message immediately.
If you don't, you may miss out on this opportunity forever.
I've recorded a short 2 minute message that explains everything here.
Including what this new money is, why it's so important that you have some, and how to claim yours right away.
---
NEXT: