Gold has attracted investors looking for a safe haven for many years, and has proven itself to be a reliable commodity among its peers in the precious metals space. The price of gold fluctuates in response to economic and political uncertainty throughout the world. Interest rates, inflation, changes in currency, and geopolitical tensions have all played a role in gold's ups and downs. Luckily, in what will be part one of two gold lists, we have three, dare I say, cheap stocks that are quite worthy of our consideration.
Although buying gold equities will provide investors with an entry into the industry, it's important to evaluate each of them to make sure they fit one's investment goals. Gold firms are susceptible to volatility in not only pricing but production expenses, geopolitical tensions, and environmental hazards as well. Despite these inherent risks, gold stocks can help diversify a portfolio and capitalize on the industry's long-term expansion. It also helps that they're priced low while growing as quickly as they do.
Let's have a look at three gold tickers that are each performing incredibly well year-to-date, with low prices and impressive upside potential to boot. Analysts concede that now is the time to buy:
TRX Gold Corp (TRX)
TRX Gold Corp. (TRX) focuses primarily on production in Tanzania, hence being originally known as Tanzanian Gold Corp. until its name change in May 2022. TRX was founded in 1990 and is headquartered in Ontario, Canada. TRX's stock is up YTD by nearly 70% and boasts a safe beta score of 0.56. TRX has a market cap of $150 million and a forward P/E (price to earnings) ratio of 11.83x. TRX doesn't pay a dividend as of now, but it just recently hit its 52-week high, with a massive EPS growth forecast of 1,233%, net income growth of 273.69%, and a 10-day average volume of half a million shares. Currently priced at a bargain rate, TRX's median price target is $1.10, with a high of $1.50 and a low of $1.00. This represents a significant potential price upside of 160%. Analysts don't have to think twice: buy TRX now and hold.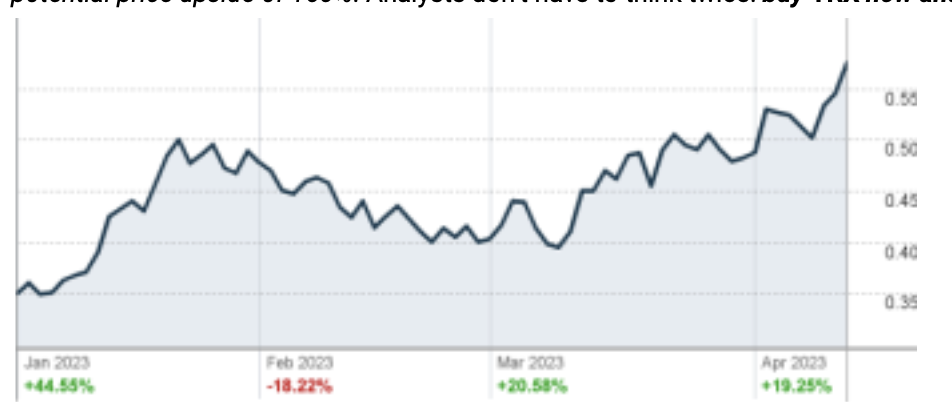 ---
---
TRX (Year-to-Date)
B2Gold Corp (BTG)
B2Gold Corp. (BTG) produces gold with three operating mines in Mali, Namibia, and the Phillipines. BTG owns properties in Uzbekistan and Finland. BTG was founded in 2006 and is based in Vancouver, Canada. BTG is having a good year so far, up by 21.57%, with a 0.99 beta score and a market cap of $4.5 billion.
BTG has a P/E ratio of 17.6x, a forward P/E of 14.9x, and TTM revenue of $1.7 billion, from which it profited $252 million, with a modest 14.60% margin. BTG shows forecasted 3-5 year EPS growth of 30%, and has a 10-day average volume of 10.2 million shares. BTG has a dividend yield of 3.76%, with a quarterly payout of 4 cents ($0.16/yr) per share. Analysts give BTG a median price target of $5.08, with a high of $6.30 and a low of $4.25, representing a potential 45% price increase. Analysts suggest that we buy BTG and hold.
BTG (Year-to-Date) 
---
---
Kinross Gold Corp (KGC)
Kinross Gold Corp. (KGC) was founded in 1993 by Robert Buchan and is headquartered in Toronto, Canada. Among the "Top 10 Gold-mining Companies of 2019," InvestingNews placed KGC in 5th place. KGC is up by just about 30% YTD, with a market cap of $6.3 billion and a 0.98 beta. KGC has a P/E ratio of 21x, a P/S (price to sales) of 1.92x, and a P/B (price to book) of 1.08x. KGC shows YOY revenue growth of 75%, and most recently beat analysts' EPS and revenue projections by 23.05% and 2.58%, respectively. KGC has a dividend yield of 2.26%, with a quarterly payout of 3 cents ($0.12/yr) per share. KGC has a median price target of $5.96, with a high of $7.33 and a low of $3.50, giving the stock a potential 38% price jump. Analysts agree that as far as KGC goes, we should buy now and hold.
KGC (Year-to-Date) 
Take a look at this:
What I'm holding in my hand is a completely new form of money…
As we speak, it's being used as an alternative currency across the U.S. minting in places like Utah, New Hampshire and Nevada…
And since it's made out of a thinly printed sheet of REAL gold…
It may be the single best way to protect your wealth from a sinister plot by president Biden to completely DESTROY your money.
Because rest assured…
Biden has already set the stage for a government-controlled digital dollar – which I believe is a DIRECT threat to your wealth and financial security.
That's why I'm sounding the alarm about this important new form of money called a "Goldback"…
And why I want to get your hands on it right away.
There's just one catch.
Since I have a limited number of these…
I need you to respond to this message immediately.
If you don't, you may miss out on this opportunity forever.
I've recorded a short 2 minute message that explains everything here.
Including what this new money is, why it's so important that you have some, and how to claim yours right away.
---
NEXT: