Dividend stocks have traditionally made outstanding investments, as they allow you to both collect passive income as well as benefit from the upside of a rise in the price of the underlying stock.
In the current interest rate environment – where the Federal Reserve is likely to maintain a policy of near-zero rates – income-producing investments have taken a significant hit.
Strong, high-paying dividend stocks provide an outstanding alternative for those investors looking for consistent income.
Most companies that pay dividends are well established, so many investors use these types of stocks to both provide access to income as well as add stability to their portfolio.
But not all dividend stocks are great investments…and some stand out from the others in a significant way.
What follows is a list of five dividend-paying stocks that provide both stability as well as dependable dividends and are worthy of consideration for all dividend investors in 2021.
1. CVS Health Corporation (NYSE: CVS)
CVS Health Corporation (NYSE: CVS) provides health services in the United States. The company's Pharmacy Services segment offers pharmacy benefit management solutions and serves employers, insurance companies, unions, government employee groups, health plans, prescription drug plans and more.

This segment operates retail specialty pharmacy stores; and specialty mail order, mail order dispensing, and compounding pharmacies, as well as branches for infusion and enteral nutrition services.

Its Retail/LTC segment sells prescription and over-the-counter drugs, consumer health and beauty products, and personal care products; and provides health care services through its MinuteClinic walk-in medical clinics.

This segment also distributes prescription drugs; and provides related pharmacy consulting and other ancillary services to chronic care facilities and other care settings.

As of December 31, 2020, the company operated approximately 9,900 retail locations and 1,100 MinuteClinic locations, as well as online retail pharmacy websites, LTC pharmacies, and onsite pharmacies.
The company's current dividend yield is an attractive 2.7% and the company has a relatively attractive price-to-earnings (P/E) ratio now of roughly 14.
With the continued focus on healthcare – and CVS Health Corp.'s significant role in both Covid-19 testing and vaccination – the company should remain an attractive one for dividend investors for many months to come.
---
---
2. AbbVie Inc. (NYSE: ABBV)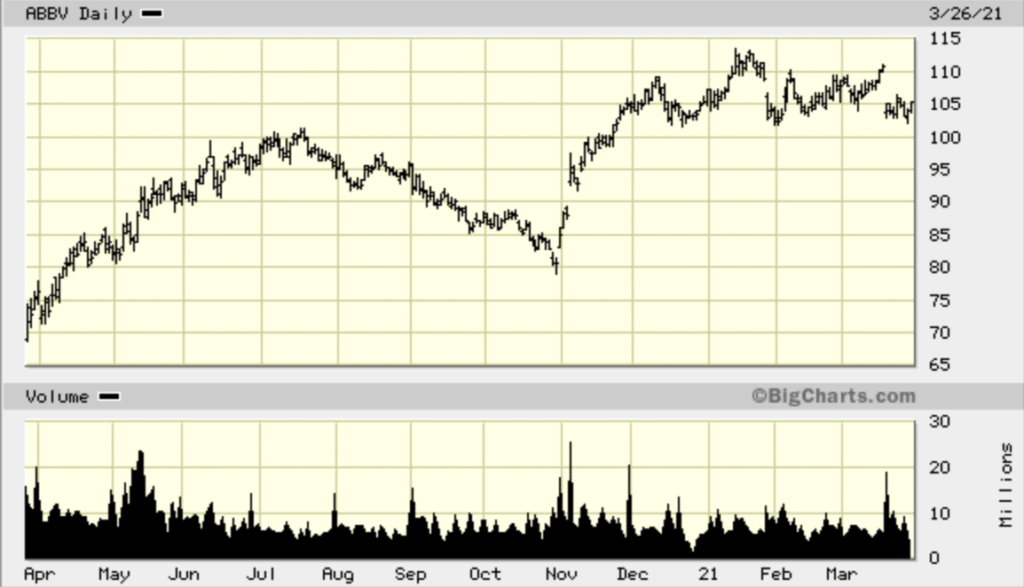 AbbVie Inc. (NYSE: ABBV) is a research-based global biopharmaceutical company committed to developing innovative, advanced therapies for some of the world's most complex and critical conditions.
Its primary drug, HUMIRA – is the highest-grossing blockbuster drug in the world, and treats afflictions such as arthritis and Crohn's disease among others. It goes without saying that HUMIRA makes up the majority of the company's sales.
In addition to its strong pipeline of drugs and additional research on the way, the company's primary attractiveness to dividend investors is its consistency.
The company currently pays a dividend yield of 4.9% and it has increased its dividend each year for the past 25 years.
---
---
3. Cisco Systems (Nasdaq: CSCO)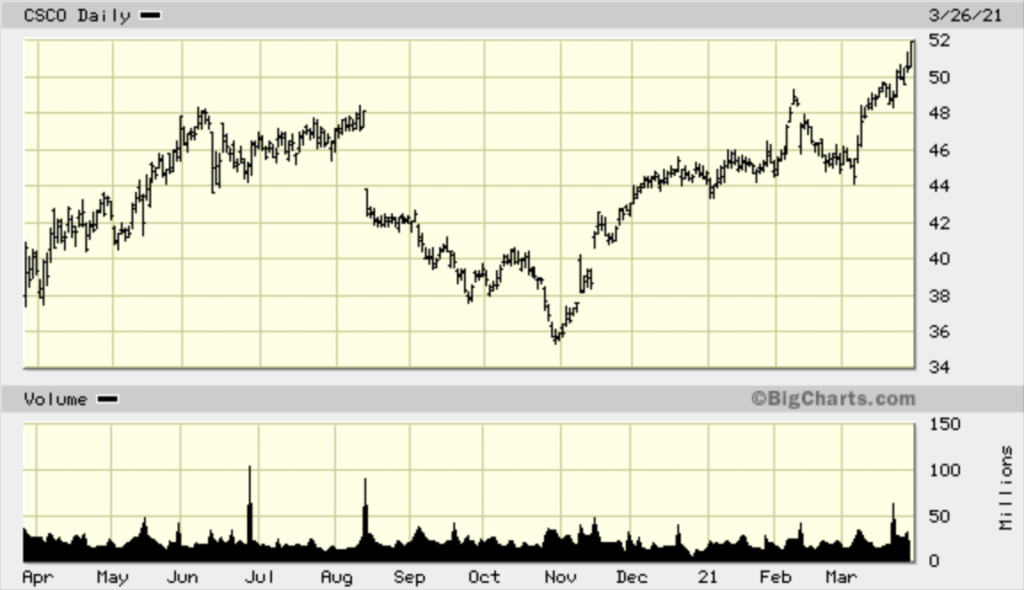 Cisco Systems, Inc. (Nasdaq: CSCO) is an American multinational technology conglomerate headquartered in San Jose, California, in the center of Silicon Valley.

Cisco develops, manufactures and sells networking hardware, software, telecommunications equipment and other high-technology services and products.
The company is currently paying a dividend of around 3% and has raised its dividend for nine straight years.
As an essential provider for much of the internet's backbone, it's likely that the company will remain in on a solid foundation for many years to come.
And so long as it continues rewarding investors through stock buybacks and dividends, it will remain an attractive investment for dividend seekers as well.
---
---
4. Johnson & Johnson (NYSE: JNJ)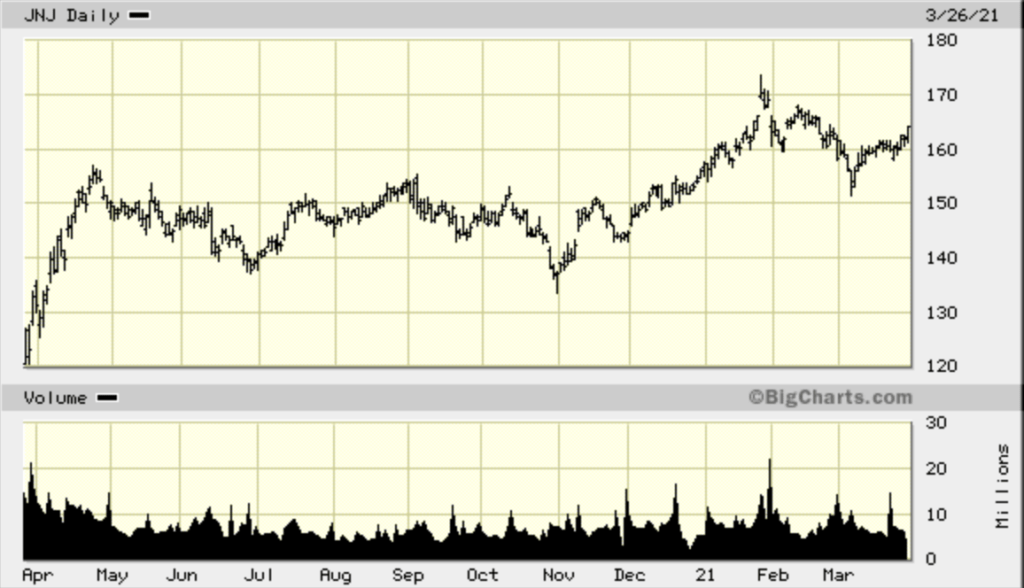 Johnson & Johnson (NYSE: JNJ) is an American multinational corporation founded in 1886 that develops medical devices, pharmaceuticals, and consumer packaged goods.
The company's consumer goods division has been one of the most consistent-performing business units in the U.S. over the past several decades. And while the medical devices division took a step back – primarily due to a decline in surgeries during the pandemic – the company's pharmaceutical division has grown rapidly over the past 12 months thanks in large part to its successful Covid-19 vaccine rollout.
Among the most consistent dividend stocks for more than half a century, Johnson & Johnson is paying a dividend yield of 2.5% and has increased its dividend annually for nearly 58 consecutive years.
5. Valero Energy Corp. (NYSE: VLO)
Valero Energy Corporation (NYSE: VLO) manufactures, markets, and sells transportation fuels and petrochemical products in the United States, Canada, the United Kingdom, Ireland, and internationally. It operates through three segments: Refining, Renewable Diesel, and Ethanol.
The company is involved in oil and gas refining, marketing, and bulk selling activities. It produces conventional, premium, and reformulated gasolines; gasoline meeting the specifications of the California Air Resources Board (CARB); diesel fuels, low-sulfur and ultra-low-sulfur diesel fuels; CARB diesel; other distillates; jet fuels; blendstocks; lube oils and natural gas liquids; and asphalts, petrochemicals, lubricants, and other refined petroleum products.
Globally, Valero is the second-largest producer for both renewable diesel as well as corn ethanol. And the company is focusing on projects in high growth, low carbon markets.
These efforts – along with the company's overall diversification and attractive 5.6% dividend yield – make it a highly attractive consideration for dividend investors.
---
---
---
NEXT: