Renewable energy stocks have delivered inconsistent returns for investors over the past several years, but that appears likely to change in 2021 and beyond.
The new Biden administration has plans to invest as much as $2 trillion in clean energy initiatives over the next four years and has established goals including carbon-free electricity by 2025 and net-zero emissions by 2050.
This critical tailwind figures to boost the fortunes of well-positioned green energy stocks in the months ahead and there are a number of compelling investments to choose from.
But with a wide array of green energy stocks available, how do you know where to put your money in order to achieve maximum returns?
The following five stocks offer significant upside potential – and could be considered the among the most attractive green energy stocks for the next 12 months:
---
---
1. TPI Composites, Inc. (Nasdaq: TPIC)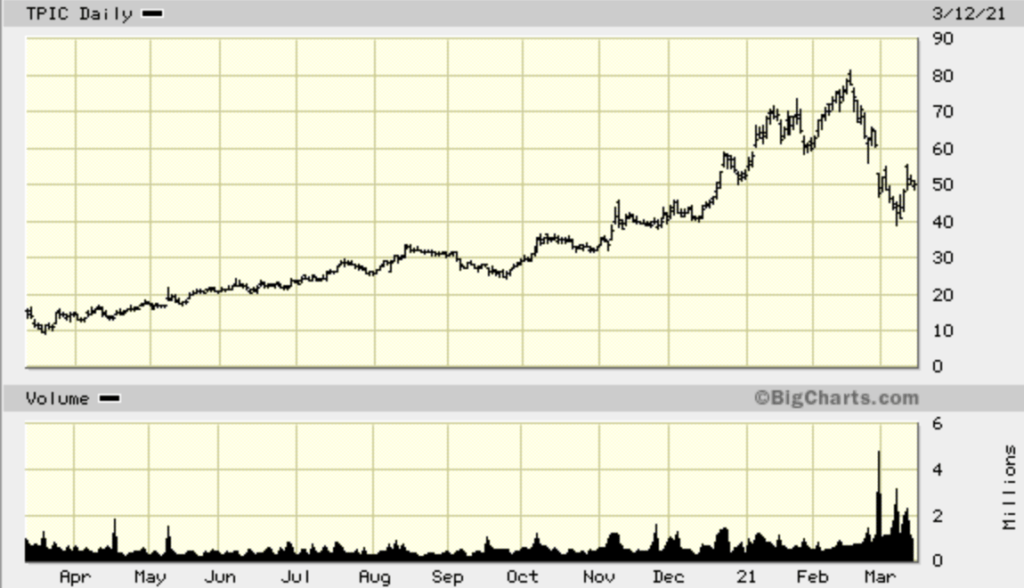 TPI Composites, Inc. (Nasdaq: TPIC) is a leading manufacturer of composite wind blades, which it supplies to wind turbine manufacturers.
Roughly 20% of all onshore wind blades sold globally are manufactured by TPI Composites and in 2020 the company had net sales of $1.4 billion with more than 9,500 blades sold.
The company's clients include large equipment manufacturers such as Vestas and GE, and the company has made itself the most affordable and convenient partner for large original equipment manufacturers (OEMs) worldwide.
The company also provides composite solutions for the transportation industry; and field service inspection and repair services to OEM customers and wind farm owners and operators. It operates in the United States, Asia, Mexico, Europe, the Middle East, Africa, and India.
2. SolarEdge Technologies, Inc. (Nasdaq: SEDG)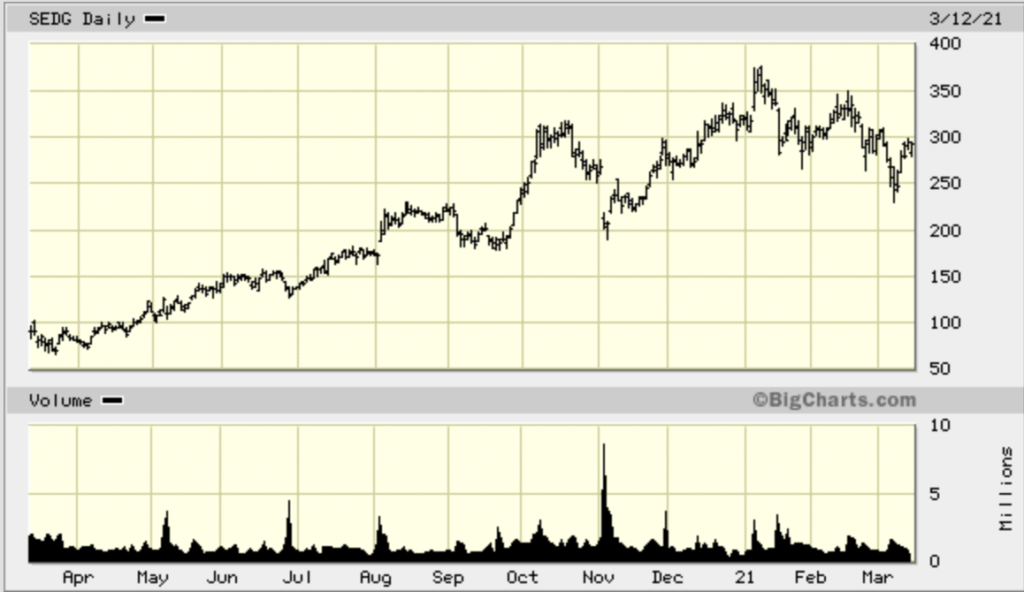 SolarEdge Technologies, Inc. (Nasdaq: SEDG) is a global leader in smart energy technology. By leveraging world-class engineering capabilities and with a relentless focus on innovation, SolarEdge creates smart energy solutions that power our lives and drive future progress.
In addition, the company designs, develops and sells direct current optimized inverter systems for solar photovoltaic installations.
SolarEdge developed an intelligent inverter solution that changed the way power is harvested and managed in photovoltaic (PV) systems. The SolarEdge DC optimized inverter seeks to maximize power generation while lowering the cost of energy produced by the PV system.
Continuing to advance smart energy, SolarEdge addresses a broad range of energy market segments through its PV, storage, EV charging, batteries, UPS, electric vehicle powertrains, and grid services solutions.
3. NextEra Energy, Inc. (NYSE: NEE)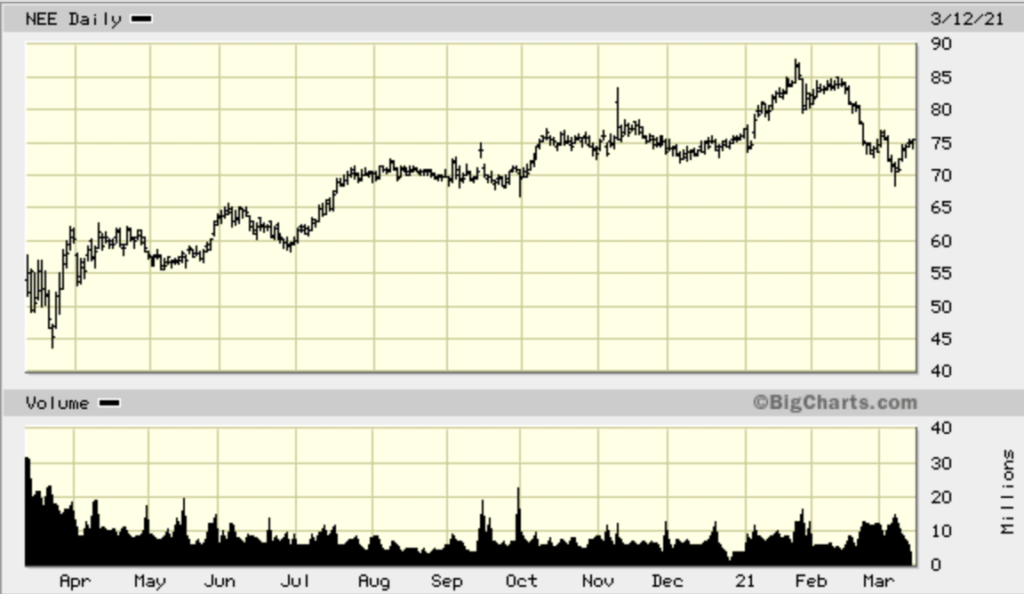 NextEra Energy, Inc. (NYSE: NEE) is the world's largest untility company, serving 5.5 million customers in Florida across two different subsidiaries.
But the company is also the world's largest generator of wind and solar renewable power.
NextEra Energy serves more than 5.6 million customer accounts, supporting more than 11 million residents across Florida with clean, reliable and affordable electricity. NextEra Energy also owns a competitive clean energy business, NextEra Energy Resources, LLC, which, together with its affiliated entities, is the world's largest generator of renewable energy from the wind and sun and a world leader in battery storage.
Through its subsidiaries, NextEra Energy generates clean, emissions-free electricity from seven commercial nuclear power units in Florida, New Hampshire and Wisconsin. A Fortune 200 company and included in the S&P 100 index, NextEra Energy has been recognized often by third parties for its efforts in sustainability, corporate responsibility, ethics and compliance, and diversity.
NextEra Energy is ranked No. 1 in the electric and gas utilities industry on Fortune's 2021 list of "World's Most Admired Companies" and received the S&P Global Platts 2020 Energy Transition Award for leadership in environmental, social and governance.
Recently, the company announced plans for its Florida Power & Light subsidiary to invest $65 million in a pilot project that will produce "green" hydrogen from solar power by 2023, as the company closes its last coal-fired power plant.
4. Brookfield Renewable Partners L.P. (NYSE: BEP)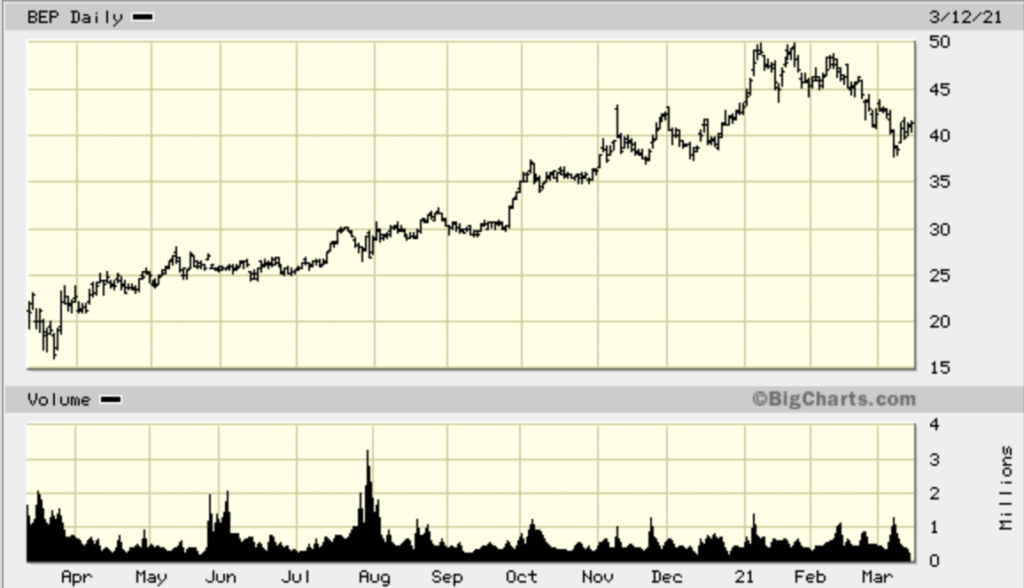 ---
---
Brookfield Renewable Partners L.P. (NYSE: BEP) operates one of the world's largest publicly traded, pure-play renewable power platforms.

Brookfield Renewable has generated an annualized return of 17% since inception and it has also beaten the market over the last three-year and five-year periods.

Its portfolio consists of hydroelectric, wind, solar and storage facilities in North America, South America, Europe and Asia, and totals approximately 20,000 megawatts of installed capacity and an approximately 23,000 megawatt development pipeline.
At the moment, the company derives the bulk of its revenue from hydro and wind energy. But that's about to change, as Brookfield is now planning for most of its revenues to come from solar in the years ahead.

To that end, Brookfield recently paid $810 million to purchase Exelon's solar business putting them in position to benefit from a greater emphasis on solar in the near future.
5. First Solar, Inc. (Nasdaq: FSLR)
First Solar, Inc. (Nasdaq: FSLR) is a unique company in the green energy space in that it has a history of profitable operations and presents a solid balance sheet.
In the company's most recent earnings release, management projected that it would close the year with as much as $1.3 billion of net cash on the balance sheet and $3.65 to $4.15 in earnings, giving the company an attractive price-to-earnings ratio of roughly 22.
First Solar provides photovoltaic (PV) solar energy solutions in the United State, Japan, France, Canada, India, Australia, and internationally. It operates in two segments, Modules and Systems.

The Modules segment designs, manufactures, and sells cadmium telluride solar modules that convert sunlight into electricity to integrators and operators of PV solar power systems.

The Systems segment provides power plant solutions, such as project development; engineering, procurement, and construction; and operating and maintenance services to utilities, independent power producers, commercial and industrial companies, and other system owners. 
---
---
---
---
---
NEXT: