And 76,000% Gains…
Tech experts predict that the imminent rollout of 5G technology will have a massive impact on the way we interact with technology.
"5G," of course, is the fifth generation of mobile wireless technology and represents a significant upgrade from previous technology.
5G promises to greatly accelerate download speeds, deliver faster response times and allow networks to connect to many more types of devices.
How much faster will this 5G technology be?
---
---
According to some projections, 5G technology will allow for speeds as high as 10 times faster than the currently available standard 4G and LTE network technology, with download speeds as high as 10 gigabits per second.
That's a significant upgrade…and such a huge change helps explain why the global 5G market is forecast to grow at a compound annual growth rate of around 97% and will reach a value of $251 billion by 2025.
The rollout of 5G technology could provide a powerful boost to the global economy – and go down in history as perhaps as significant as the introduction of the personal computer.
The power of 5G technology – and its faster speeds – could help make technologies such as self-driving cars, robotic surgeries and artificial intelligence an everyday part of our lives in the near future.
Here are four companies investors should strongly consider as the top 5G stocks to watch for 2020:
Stock #1: Qualcomm (Nasdaq: QCOM)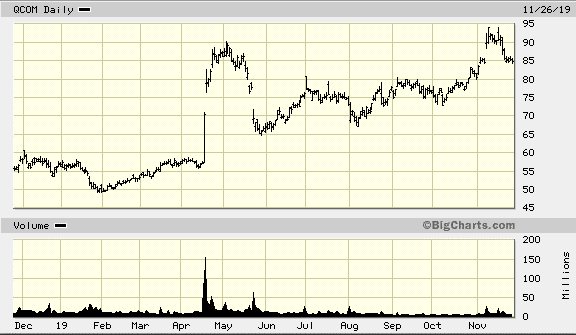 QUALCOMM Incorporated designs, develops, manufactures, and markets digital communication products worldwide. The company is one of the world's largest manufacturers of wireless chipsets based on baseband technology.
According to Forbes, "The 5G race is in full swing, and there's lots of competition for leadership in the space. Qualcomm has again and again re-asserted its dominance."
The company's settlement with Apple earlier this year allows Qualcomm to supply chips for the iPhone for at least the next six years. And Apple can now release a 5G-compatible phone more quickly than originally projected, with the Qualcomm licensing issue now resolved.
---
---
In addition, Qualcomm's potential breakthrough 5G millimeter wave antenna module could be the type of game-changer that sends the stock even higher.
Qualcomm played an influential role in the development and adoption of both 3G and 4G technology and is well-positioned to remain a leader in the rapidly-growing 5G market thanks to its advanced technology and experience in the space.
Stock #2: Ciena Corporation (NYSE: CIEN)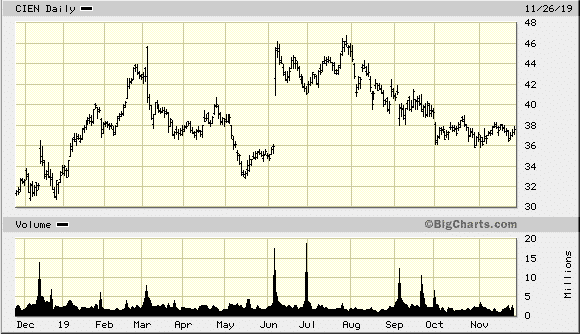 Ciena Corporation provides network hardware, software, and services that support the transport, switching, aggregation, service delivery, and management of video, data, and voice traffic on communications networks worldwide.
The company's Networking Platforms segment offers hardware networking solutions optimized for the convergence of coherent optical transport, optical transport network switching, and packet switching. Its products include 6500 Packet-Optical Platform, 5430 Reconfigurable Switching System, Waveserver stackable interconnect system, CoreDirector Multiservice Optical Switches, and OTN configuration for the 5410 Reconfigurable Switching System, as well as Z-Series Packet-Optical Platform; 3000 family of service delivery switches and service aggregation switches, and the 5000 family of service aggregation switches, as well as 8700 Packetwave Platform and the Ethernet packet configuration for the 5410 Service Aggregation Switch; and 6500 Packet Transport System.
---
---
This segment also sells operating system software and enhanced software features embedded in each of its products. The company's Software and Software-Related Services segment offers multi-domain service orchestration, inventory, route optimization and assurance, network function virtualization orchestration, analytics, and related services; and OneControl unified management system and platform software services, as well as manage, control, and plan software.

Its Global Services segment provides consulting and network design, installation and deployment, maintenance support, and training services.
The company sells its products through direct and indirect sales channels to network operators.
Stock #3: Xilinx, Inc. (Nasdaq: XLNX)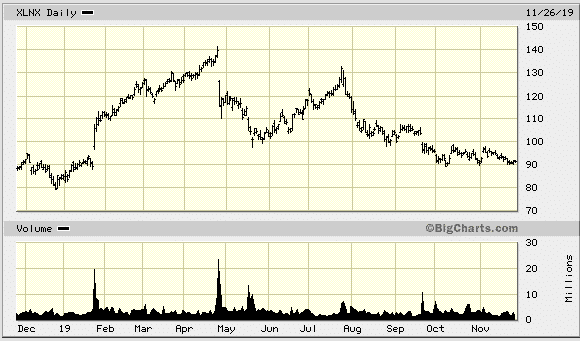 Xilinx, Inc. designs and develops programmable devices and associated technologies worldwide.
The company offers integrated circuits (ICs) in the form of programmable logic devices (PLDs), such as programmable system on chips, and three dimensional ICs; adaptive compute acceleration platform; software design tools to program the PLDs; software development environments and embedded platforms; targeted reference designs; printed circuit boards; and intellectual property (IP) core licenses covering Ethernet, memory controllers, Interlaken, and peripheral component interconnect express interfaces, as well as domain-specific IP in the areas of embedded, digital signal processing and connectivity, and market-specific IP cores.
It also offers development boards; development kits, including hardware, design tools, IP, and reference designs that are designed to streamline and accelerate the development of domain-specific and market-specific applications; and configuration products comprising one-time programmable and in-system programmable storage devices to configure field programmable gate arrays. In addition, it provides design, customer training, field engineering, and technical support services.
The company offers its products to electronic equipment manufacturers in sub-segments, such as data center, wireless, wireline, aerospace and defense, test and measurement, industrial, scientific and medical, automotive, audio, video and broadcast, and consumer.

It sells its products through a network of independent distributors; and through direct sales to original equipment manufacturers and electronic manufacturing service providers, as well as independent sales representatives.
Stock #4: Skyworks Solutions, Inc. (Nasdaq: SWKS)

Skyworks Solutions, Inc., together with its subsidiaries, designs, develops, manufactures, and markets proprietary semiconductor products, including intellectual property worldwide.

The company provides its products for automotive, broadband, cellular infrastructure, connected home, industrial, medical, military, smartphone, tablet, and wearable applications.

Skyworks is something of an "anonymous" tech company because most people that use a device that includes Skyworks parts don't know of the company.

As a premier provider of wireless front-end solutions, Skyworks is an expert in connectivity. The company is enabling the 5G evolution by advancing its technology leadership and its product reach to power some of the world's most exciting communication platforms.