Let's say you live in the Golden State, you're getting squeezed by crazy-high housing costs and your finances could use some serious TLC, but you've been putting it off.
When you finally do sit down to think about it, you get overwhelmed. Which goal to attack first? You need a budget, a savings plan, a debt-repayment strategy, a better credit score, a plan for retirement and … oh God, it's too much.
To tackle big goals, you have to start small.
Here are some simple steps you can take today to get your finances under control.
1. Enjoy a No-Spend Day
Farmers market? Museum? Nature? It's easy to get sucked into spending money on weekend outings, but there are plenty of free activities you can do today, instead.
You can search your local newspaper, magazines or websites for plenty of ideas. Here are a few to help you get started:
Go on a penny date. The rules are simple: Have your date or a family member pick a number between one and 30, pick a street corner and have them flip the penny. If it's heads up, turn right. If it's tails up, turn left. Do this at each intersection for whatever number they chose. Wherever you end up is where you'll spend the day.
If the weather's nice and you live near a body of water, head to the beach for the day! The beach offers a full day of entertainment and relaxation at potentially no cost.
Not near a beach? Plan a day of hiking. You can find a ton of free tails. (If you live near a national park, take advantage of the free admission days.)
The library is a treasure trove of freebies, including free museum passes. Maybe you'll even check out a book or two.
2. This Company Will Pay You to Do the Dishes at Night
Chances are, you're doing the dishes right after dinner just like everyone else in California. Here's the thing: All these dishwashers running at the same time costs the power company more money. 
That's why a new company called OhmConnect will pay you to do the dishes just a little bit later.
Here's how it works: Link up your utility account with OhmConnect. Then, OhmConnect will send you a text when a lot of people in your area are using power. If you cut back on your electric use for just an hour, you'll get paid. This can be as simple as waiting to run the dishwasher, turning off your lights or A/C or even turning off your breaker.
The more you do, the more money you can make.
For example, Tanya Williams recently earned an extra $1,700 in one year with OhmConnect — that's more than $140 a month. A few evenings each week, the 45-year-old stay-at-home mom shut down her home's electrical panel and took the kids to the pool or just played board games. 
It takes just a few minutes to connect your account and start getting texts with money-making opportunities from OhmConnect.
3. Secure $1 Million in Life Insurance for Just $5/Month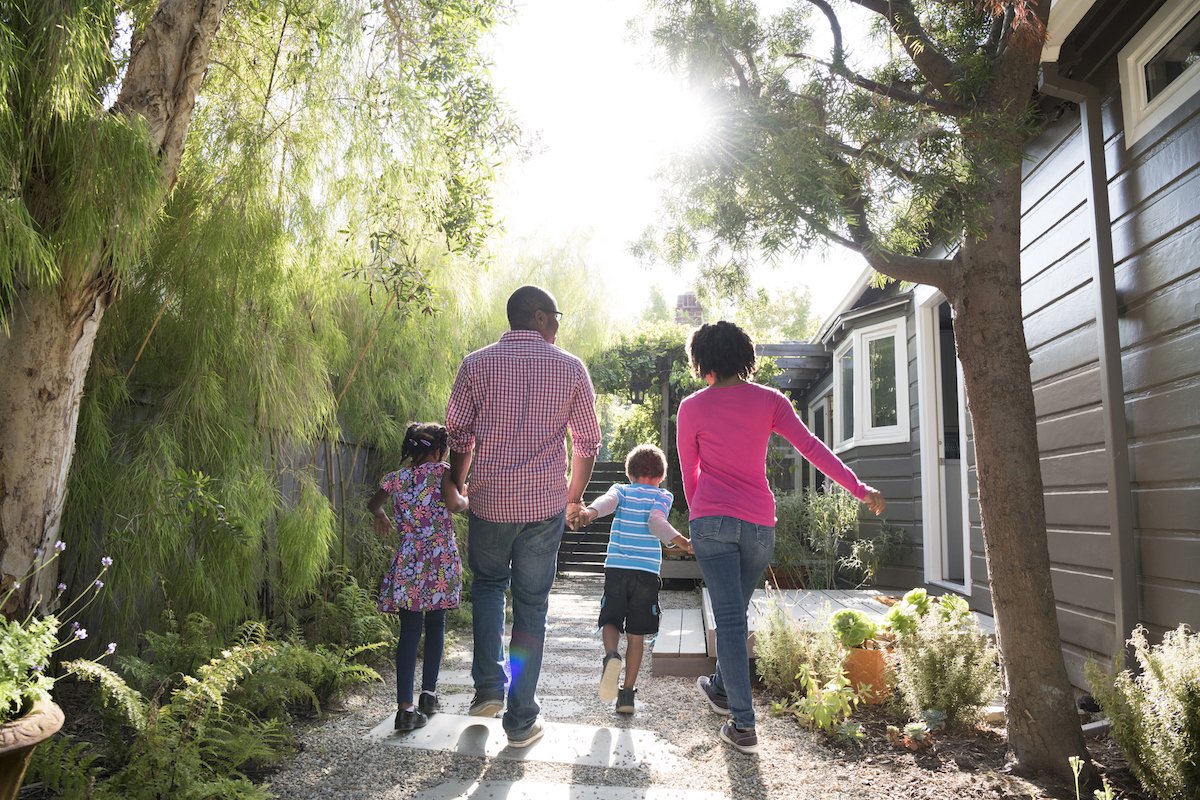 Have you thought about how your family would manage without your income after you're gone? Chances are your checking account balance won't last forever.
Now's a good time to start planning for the future by securing a life insurance policy.
You're probably thinking: I don't have the time or money for that. But your application shouldn't take more than about five minutes — and you could leave your family $1 million by spending $5 a month on life insurance with a company called Bestow.
You can change or cancel your plan at any time. Plus, the security of knowing your family is taken care of is priceless.
If you're under the age of 54 and want to get a fast life insurance quote without a medical exam, pushy sales calls or even getting up from the couch, get a free quote from Bestow.
4. Give Your Credit Score a Boost — Add up to 300 Points
We say credit score, and your eyes immediately glaze over. Maybe you're only vaguely aware of what they even are. Maybe yours is ruined from a few silly mistakes. Or maybe you've got a great credit score, you show-off. 
Either way, it's an unavoidable truth: These three little numbers rule your life. They control where you can live, what kind of car you can afford and what kind of credit card you can get — if any. 
First things first; you need to know your credit score. And you can get it for free from a website called Credit Sesame. 
If it's bad, Credit Sesame will show you steps you can take to help fix it. If it's good, it will show you ways you could make it even better. And if it's excellent, well, it'll show you how to keep it that way. 
It shows you why you have the score you do and gives you personalized tips to steer you in the right direction. It will even show you if there's a mistake on your report.
James Cooper, of Atlanta, used Credit Sesame to raise his credit score nearly 300 points in six months.
"They showed me the ins and outs — how to dot the I's and cross the T's," he says. "I applied for my first credit card ever."
Getting your free credit score takes about 90 seconds. Before you know it, you'll be an expert in credit scores. 
Never thought you'd earn that title, huh?
5. Ask This Website to Pay Your Credit Card Bill This Month
No, like… the whole bill. All of it. All that debt racked up from the 300 destination weddings your friends made you attend (thanks!) could be paid by the end of this month.
Your credit card company is ripping you off with insane rates, and it's getting rich off of you. But there are other, nicer companies that'll help you out. A website called Credible knows the best ones and could pair you up as soon as tomorrow. 
Here's how it works: Credible will match you with a loan that'll cover your credit card tab. Use that loan to pay off your debt, then make monthly payments to repay the loan. It could lower your monthly payments and help you pay off that debt a lot faster. Plus, no credit card payment this month.
Credible won't make you stand in line or call a bank. And if you're worried you won't qualify, it's free to check online. It takes just two minutes, and it could save you thousands of dollars. Totally worth it.
Now you can finally stop holding a grudge against that friend who thought a Mexico wedding was a good idea.
6. 
Reduce Your Car Insurance Bill
If you really want to get the best price on car insurance, experts say you should be shopping twice a year.
OK, we can hear you laughing from here. Who has time to do all that?
But seriously, insurance companies take a lot of factors into consideration, and they change all the time. Ipso facto — you're paying too much.
Thankfully, a free website called The Zebra will do the shopping for you — in just two minutes.
All you have to do is enter basic information about your car and driving history, then The Zebra compares prices from more than 100 companies to find you the best price.
The Zebra says it saves its users up to $670 a year.
If you find a policy you like, you can sign up online instantly.
Who's laughing now?
7. Grow Your Money 31x Faster — Without Buying Stocks
Yeah, you've heard it before. The best way to grow your money is to stick it in the stock market and leave it there for, well, ever.
But maybe you're just looking for a place to safely stash it away — but still earn money. Under your mattress or in a safe will get you nothing. And a typical savings account won't do you much better. The FDIC reports a national average of .09%* APY, which is nothing these days.
But a mobile banking app called Varo will pay you up to 31 times that amount in earned interest on their savings account. 
We know opening a new bank account isn't exactly everyone's idea of fun, but Varo makes it easy. You can open an account with no minimum, and more than 750,000 people have already signed up.
Oh, and there are no monthly fees. 
So forget that killer stock tip from your uncle — you're set. 
8. Turn Those Crumpled Receipts Into Free Gift Cards
What do you usually do with your receipts? You check out, they hand you a mile-long piece of paper, and you frantically stuff it to the bottom of a grocery bag. Pretty worthless.
But a free app called Fetch Rewards will turn them into gift cards. It partners with tons of brands to give Californians points for every grocery receipt they share. Then you can exchange them for gift cards to places like Amazon, Walmart, Chipotle and dozens of other retailers.
And it's perfect for those of us who don't want to put a ton of work into this. All you have to do is send Fetch a photo of your receipt, and it does everything for you. No scanning barcodes or searching for offers — and you can use it with any grocery receipt.
When you download the app, use the code PENNY to automatically earn a bonus when you scan your first receipt — you'll be well on your way to your first gift card.
Not so bad for a useless receipt, right?
9.
Get a Free Smart Home Sensor Kit and Save up to 25% on Homeowners Insurance
It's no secret the cost of living in California is high. You're probably already paying a hefty monthly mortgage payment, and the homeowners insurance on top of that is no fun, either.
But here's the good news: Saving money on your homeowners insurance is simple, thanks to an insurance company called Hippo.
Head over to Hippo to get a free quote — it takes all of 60 seconds. It'll ask you questions about your home's safety features, and unlock all sorts of discounts you probably didn't know about. In fact, it's able to save the average customer 25% on their monthly premiums.
Plus, when you secure a policy through Hippo, it'll send you a complimentary smart home sensor kit, which can help protect your home against fire, water damage and break-ins.
Oh, and don't worry about your existing insurance. You're allowed to cancel your policy at any time, and your company should issue you a refund. (Just be sure to look into any fees that might apply.)
Start by checking your rates on Hippo; it only takes a minute!
*Like Cooper, 60% of Credit Sesame members see an increase in their credit score; 50% see at least a 10-point increase, and 20% see at least a 50-point increase after 180 days.
Credit Sesame does not guarantee any of these results, and some may even see a decrease in their credit score. Any score improvement is the result of many factors, including paying bills on time, keeping credit balances low, avoiding unnecessary inquiries, appropriate financial planning and developing better credit habits.